By Dan Roark
From the silent auction which began as everyone began to gather and continued throughout the evening, to the sounds of Steve Story and Texas Swing as some couples danced and the crowd dispersed, the New Hope Gala was a marvelous evening of entertainment, friendship (old and new), delectable food, and charity. Oh, and horses – Cy (Cyclops), Olivia, and Rain, the pony.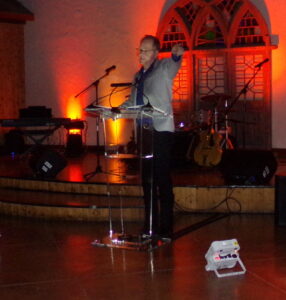 After everyone found their table and sat down, Emcee Scott Murray welcomed everyone, gave opening remarks, and reminded those assembled of the reason for the evening.
Danny Kershen gave the blessing before the meal began.
During the dinner, Auctioneer Mike Trent kept things lively – as auctioneers are wont to do – with Heads and Tails before the band, and the live auction and Give Hope Paddle Raise afterwards.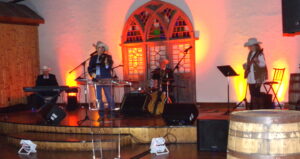 Steve Story and Texas Swing were the perfect musical complement to the evening, as Danny and Audrey Kershen illustrate at evening's end.
Stay tuned for the special presentation that came before the band closed the evening out. It deserves a post of its own.
New Hope staff and volunteers would like to thank everyone for coming and showing their support by giving their time and money. Thank you!!!
Ride on and ride for hope.