[Re-posted from Jan. 9]
While I was posting yesterday, volunteers were setting up the horse's stalls and tack room. It took a number of volunteers several hours to get everything set up. They also erected the banner at our gathering area for Chisolm Challenge Opening Ceremonies in John Justin Arena. Competition events will be held at both John Justin Arena and Will Rogers Coliseum.
This morning volunteers took Keegan, Gabby, Missy, Flash, and Daisy Mae the mule from New Hope to their stalls so they can gussied up and ready to compete. Tommy, Beau, Olivia, Cy, and Libby made the trip this afternoon with more volunteers. Chito and Rain will have New Hope all to themselves. "Although not in the same paddock because Chito is bossy."
We will be posting pictures of the horses (and mule) during the Chisholm Challenge. Below, Tucker is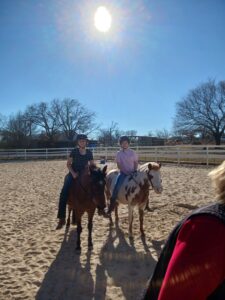 riding Chito on the left and Juliana is on Rain, giving the horses one of the last exercise periods before just hanging out for a few days.
Ride on, and ride with hope.