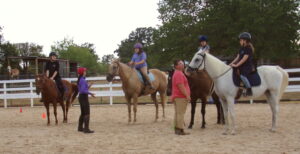 By Dan Roark     Fall lessons have begun at New Hope and so has a need for support. Many of our participant's families are financially challenged with the additional medical costs or needs for other services. Our actual cost per ride is over $150 but we try to keep our rates to half of the cost. Assistance in helping these families cover the cost of equine therapy is extremely helpful and appreciated.
In addition, there are the costs involved in housing, feeding, and caring for twelve horses which are constantly increasing along with everything else. The monthly cost to feed and care for one horse (including farrier visit and horse treats) is $285.
Today is North Texas Giving Day and you may make a one time donation here.
You may make a one time donation on the New Hope website
or a monthly donation.
You may round-up your purchases to the next dollar by linking your debit/credit card.
You may Adopt-a-Horse. Click on choose campaign and then click on Adopt-a-Horse.
The upcoming Gala is our biggest fundraising event of the year, which is on Thursday, October 12. You can help by buying tickets and planning to attend. Even if you can't attend, you could participate by promoting ticket sales at your place of work, school or worship.
And/or contribute to our auction, both live at the Gala and our on-line silent auction. Donate items for the auction now by Sept 28 and bid on the auction during the evening.
Whichever way you choose to support New Hope Equine Assisted Therapy, know that every little bit is greatly appreciated by the staff, volunteers, riders, and the horses. We could not do it without your help!!
Ride on, and ride for hope.