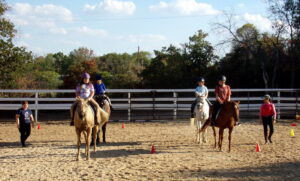 By Dan Roark    Now that the heat wave of the summer is over and school has gotten underway, activity is picking up rapidly in this little universe we call New Hope. Lessons are in full swing and volunteers are appearing to help out around the grounds.
Which means it's time for Susan Altshuler and the riders and volunteers to prepare for Chisholm Challenge Horse Show in January prior to the Fort Worth Stock Show and Rodeo. On January 9 and 10, North Texas Area Therapeutic Riding Centers, including New Hope, will participate in Chisholm Challenge in events such as English, Equitation, Western Equitation, RANCH Riding, Showmanship, Barrels, Pole Bending, Drill Team, Driving, and Trail. (Look for more information as the event gets closer.)
The lesson pictured was to go through the routine that Susan has come up with to get the horses and
riders used to the paces they will need to go through. I won't give anything away, but I think it's going to be another good themed routine again this year. I think the riders thought that as well. According to their faces, they split their time between concentration on the steps and joy at being on a horse.
Ride on and ride for hope.